Make Your Own Coin - Challenge Coin Options
---
If you want to make your own challenge coin, the sky's the limit at The-Coin-Factory.com. You're not limited to a single style. We offer a wide range of options to make your coins as distinctive and original as your organization. Choose colors, custom edge design, 3-D, attachments or other effects to create your own memorable coins that will be appreciated by all who receive them.
Coin Metal Styles
The-Coin-Factory.com offers you a choice of metals for your custom coins. Choose from classic polished gold, silver, copper or brass, elegant black nickel, or traditional antique gold, silver, copper or brass. We can also craft a contemporary duo-tone combination of any of them. The style is up to you.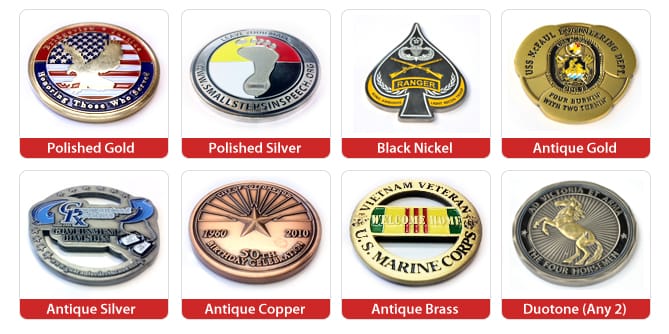 Diamond-Cut Edges
If you want to design your own coin and have it really stand out, add diamond-cut edges. We offer a choice of edge patterns to add additional detail to your coins. These patterns add a distinctive look and feel to any style of coins, one that really marks them as a high-end design.

Additional Options
Other options can further customize and enhance the appearance of your challenge coins. Epoxy domes protect the finish, while 3-D designs add richness to the coin. Cut-outs add a dramatic appearance. We offer up to seven colors free on your coin and you can add even more to make your design stand out. You can even have your challenge coins made as bottle openers or keychains.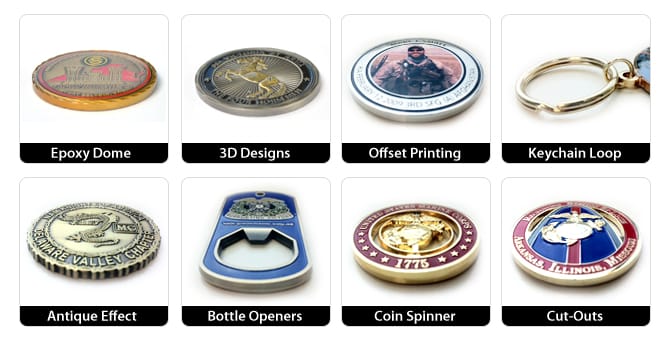 Packaging Options
When you decide to create your own challenge coins, they will come to you individually packaged in clear PVC pouches at no extra charge. If you'd like something more formal, we offer a range of packaging alternatives. These include velvet bags, coin capsules, acrylic boxes or velvet boxes-- the choice is yours. Your sales representative will help you select the perfect packaging for your needs.