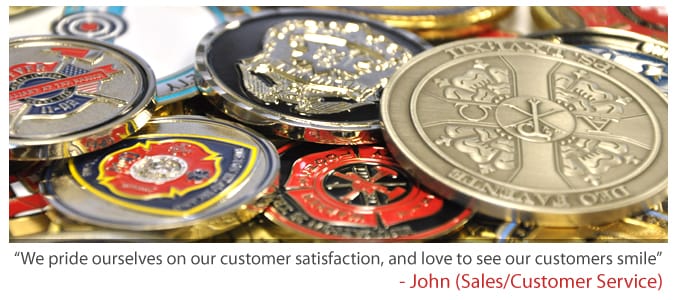 About The-Coin-Factory.com
At The-Coin-Factory.com, we know custom challenge coins are all about pride – pride in your division, unit, squad or organization. You want challenge coins you can be proud of, coins that reflect the honor of your organization. That's where we come in.
We know the history of challenge coins, and how much they can mean to unit morale. We've had the privilege of producing custom coins for every branch of the U.S. Armed Forces, and we're familiar with the requirements and standards of each for top quality designs. We've also created custom coins for schools, police, fire and emergency medical squads, Fortune 500 companies, small businesses and individuals.
No matter how large or small your order, we treat every customer the same. We're dedicated to providing you with the best quality customer service you'll receive from any business, period. We are committed to excellence in all that we do, and in raising the standards of quality for custom coins.
Artists at The-Coin-Factory.com are selected with care. Those we hire are simply the best at what they do. They could work anywhere. They choose to work for us because we believe in their creativity and award-winning talent. They can craft any design you can imagine, and they will gladly work with you to create the greatest custom coin designs you've ever seen.
We take pride in producing the finest custom challenge coins you can get. We use only top-quality materials and state of the art equipment to carefully craft every coin we produce. Our years of experience enable us to create challenge coins that are true works of art that you'll be proud to carry, and proud to distribute.
When you're ready for the best in challenge coins, you're ready for the dedication and precision only The-Coin-Factory.com can provide. If you'd like to know more, email us at [email protected], call us toll free at 1 (877) 870-5463, or fill out our no-obligation Free Quote form. Don't settle for lesser coins from a lesser company. Demand the best – custom challenge coins from The-Coin-Factory.com.